Through instant, well-directed live or pre-recorded voice messages, the AlertWave mass notification system instructs people how to react to a variety of emergency situations. The AlertWave system can operate as a stand-alone unit or be integrated with other existing facility systems for Fire Alarms, Access Control, Biological & Chemical Detection, Public Address and more. The AlertWave system provides a cost effective, wireless solution to applications ranging from simple wireless Public Address implementations to a fully customized, network capable wireless emergency notification and personnel alert system.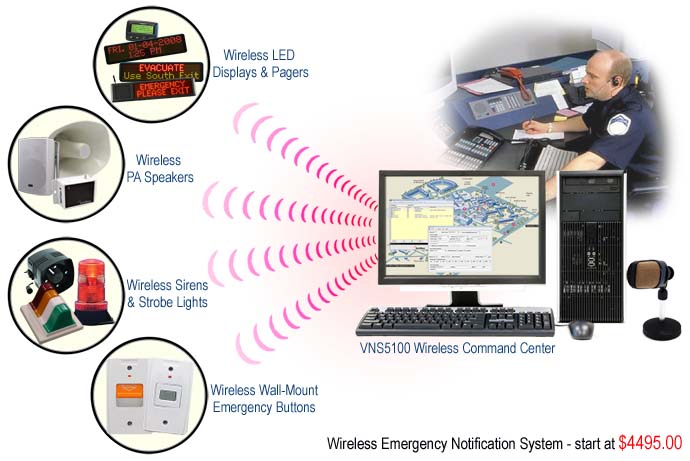 The main advantages of a Visiplex AlertWave system are:
Central Control Units & Base Stations -

The AlertWave mass notification system offers a variety of Voice & Data paging controllers to wirelessly monitor, control and activate all the system remote devices. The paging controllers can control up to 10,000 wirelessly controlled devices, initiate live or pre-recorded voice alerts, text messaging alerts to LED displays and e-mail accounts and audio/visual alerts to strobe lights and sirens. The AlertWave system also offers portable paging controllers for mobile emergency alert and communication applications.

Wirelessly Controlled Remote Devices -

Wirelessly controlled remote devices that includes indoor and outdoor Public Address speakers, two-way call/intercom stations, Alphanumeric LED displays, strobe lights and sirens. Most of the devices come with a weatherproof housing for facility-wide indoor and outdoor alerting. The system's remote devices can be activated individually or as part of different group levels such as room, floor, building and facility wide alert.

High Power Radio Transmitters -

A wide selection of radio transmitters from 6-300 Watts to match the needs of any application. The system uses a dedicated FCC approved UHF/VHF frequency for each installation to minimize any outside RF interference. Federal and military installations can use the special UHF (400-420Mhz) that is dedicated for government use only.

Modular Design -

The AlertWave system is designed as an open architecture system that provides the flexibility to expand the system in phases or as needed. Wireless remote devices such as PA speakers, strobe lights, LED displays, etc. can be added to the system at any point to improve and/or expand the system coverage.

Supervision and Security -

A secure activation mode to eliminate any unauthorized use or jamming of the system's remote devices. A full wireless supervision option of each remote device is available to reduce system maintenance costs as each remote device can wirelessly be polled to send its status information to the main control unit.

Local Integration -

The AlertWave system can be integrated with many other in-house systems such as fire alarm, access control, security, chemical & radiological sensors and weather monitoring systems. Interface to the system can also be done using Ethernet, RS-232, telephone and dry contact inputs.
All Visiplex system components use UL approved parts and are compliant with NFPA-72 2010 standards, Department of Defense United Facilities Criteria (UFC), speech intelligibility (STI-PA) standard 2003 IEC 60268-16, Federal Emergency Management Agency (FEMA), OSHA and ADA standards and codes. Visiplex is listed as an authorized government supplier (GSA listed).