Visiplex offers a variety of options for school break bell solutions. The compact, stand alone solution utilize a smart bell controller to initiate bell alerts through attached audio speakers and according to a pre-programmed bell schedule. This break bell alert device is equipped with a built-in power backup and the ability to activate old mechanical bell if needed.

The other break bell solutions from Visiplex are using a radio transmitter to initiate tone and voice alerts to an array of wireless indoor/outdoor PA speakers, utilizing an accurate Weekly or Calendar bell schedule. The Weekly bell schedule offers four fully programmable seven-day schedules of up to 48 bell tones per day. The Calendar schedule offers a 365-day schedule design, with up to 42 bell alerts per day. Each bell event can be selected from up to 16 pre-programmed alert tones or voice prompts.

In its expanded form, this wireless bell system can also be used for two-way intercom communication, public address voice paging, and time synchronization for all wireless clocks in the facility.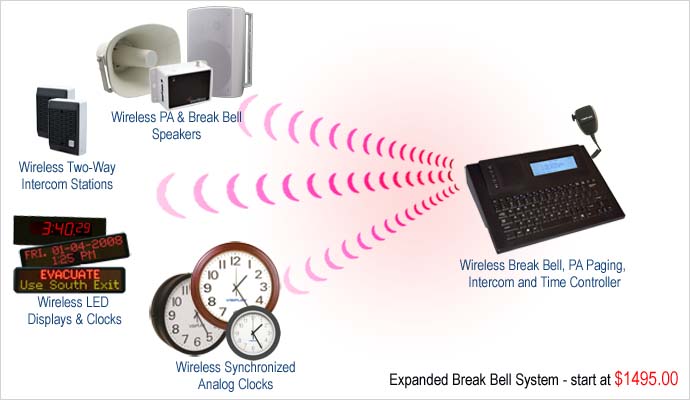 The main advantages of a Visiplex break bell system are:
Programmable weekly or calendar bell schedule

Wireless bell and clock time synchronization throughout a facility

Utilizes wireless PA speakers for bell alerts and voice announcements

Can be expanded to provide two-way intercom communication

Provides instant voice notifications during emergency situations

Easy system expansion and cost-effective wireless installation
Each Visiplex bell system offers additional wireless options for more productivity improvement, such as: wireless public address messaging, wireless time synchronization, text messaging to wireless alphanumeric LED displays, remote activation of wireless strobe lights, interface to the local phone system, and more.

All Visiplex system components use UL approved parts and are compliant with NFPA-72 2010 standards, Department of Defense United Facilities Criteria (UFC), speech intelligibility (STI-PA) standard 2003 IEC 60268-16, Federal Emergency Management Agency (FEMA), OSHA and ADA standards and codes. Visiplex is listed as an authorized government supplier (GSA listed).