Wireless Public Emergency Notification System
THE CHALLENGE
County of San Joaquin – Department of Child Support Services is a three-story government facility in Stockton, CA. Adnan Khan contacted Visiplex, looking to add an emergency notification system that would cover the entire building to improve staff members and public safety. The main requirements included: Visual & audio alerts, the ability to customize emergency alert messages, the use of POE as a power source, remote activation using remote phone access, and facility-wide time synchronization.
THE SOLUTION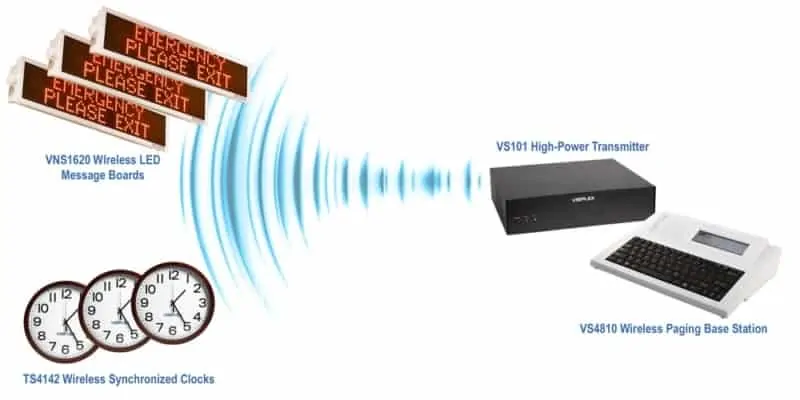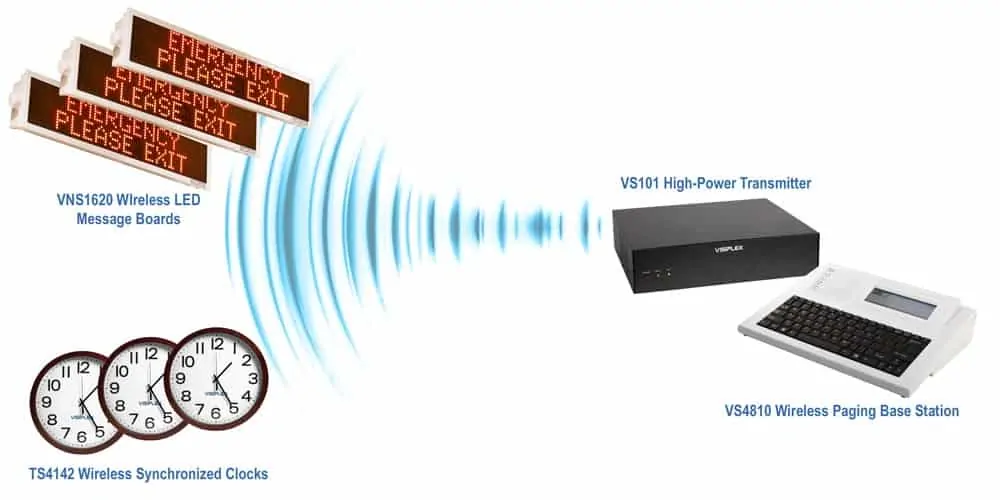 Visiplex's solution to the Department of Child Support Services consisted of a VS4810 wireless paging base station equipped with VS3003 telephone interface, VS101-25 paging transmitter for complete building RF coverage, 42 VNS1620 wireless, LED message boards, each equipped with built-in buzzer for tone alerts and VNS2258 POE power option. In addition, 7 TS4142 wireless synchronized clocks provide accurate time displays throughout.
Using the VS4810 base station keypad or over the phone, pre-programmed alert messages such as: 'Emergency Lock Down – Shelter in Place', 'Evacuate the Building at Nearest Exit' and 'Sever Weather Alert – Seek Indoor Shelter Immediately', can be sent instantly to all LED display boards throughout the building.
The proposed system was fully wireless, eliminating costly wiring between different building areas and needing only a POE power source for each LED message board. The cost of the complete system was approximately $18,000.
THE RESULTS
The main office can now provide instant, audio and visual emergency alerts to all building areas and in compliance with the ADA for the hearing-Impaired.

Emergency alert messages can be customized to match the facility requirements.

Facility-wide emergency notifications can be initiated from the base station keypad or by phone.

Fully expandable system allowing for LED message boards and synchronized clocks to be easily added or relocated.
All copyrights belong to their respective owners. Images and text owned by other copyright holders are used here under the guidelines of the Fair Use provisions of United States Copyright Law.