Wireless Paging Systems
INSTANT VOICE COMMUNICATION

Visiplex Wireless Paging Systems help you reach people across your facility for emergency notification and mass communication. The wireless system helps keep everyone safe and better informed while running your business more efficiently. Visiplex offers a variety of paging solutions ranging from a simple stand-alone voice paging system to a fully expanded indoor/outdoor overhead paging system with 2-way intercom capabilities, audio-visual alerts, and text messaging.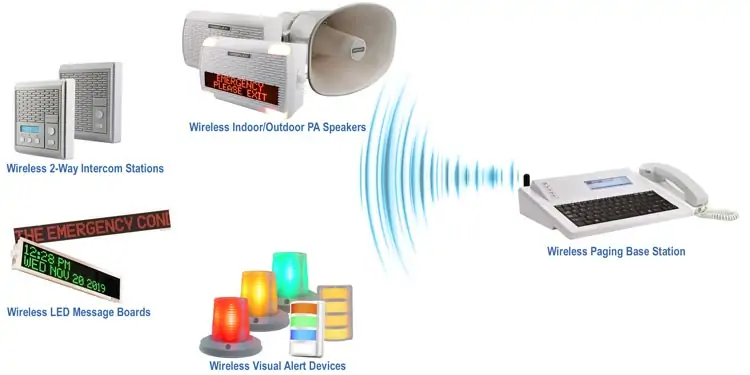 Expandable Wireless Paging System
An expanded wireless paging system offers, in addition to voice paging, many additional features such as 2-way voice communication with wireless intercom stations, SMS text notifications, public visual alerts, text messaging to LED message boards, automated emergency alerts, and even background music capabilities.
To learn more about the VS4820 paging base station – click here.
To select wireless PA speakers to match your needs – click here.
To select wireless LED message boards – click here.
To select wireless visual alert devices – click here.
To select wireless 2-way intercom stations – click here.
Wireless Desktop Paging System
The Visiplex desktop paging system is based on a wireless base station equipped with a handset or microphone. This unit can initiate live voice announcements or pre-recorded messages to wireless PA speakers. The user can easily select to page a specific speaker/room, a group of speakers/zones, or all PA speakers.
To select the right wireless paging base station – click here.
To select wireless PA speakers to match your needs – click here.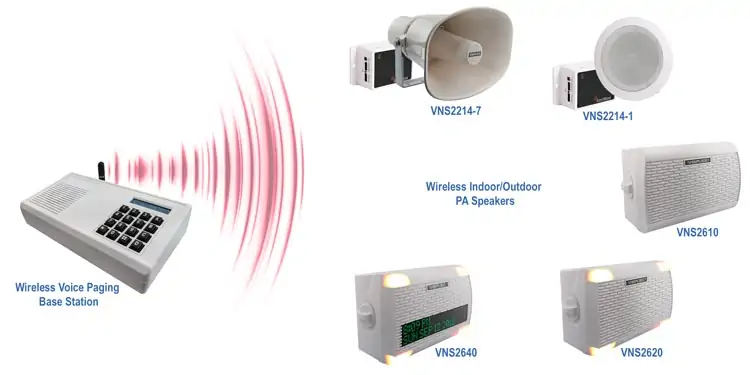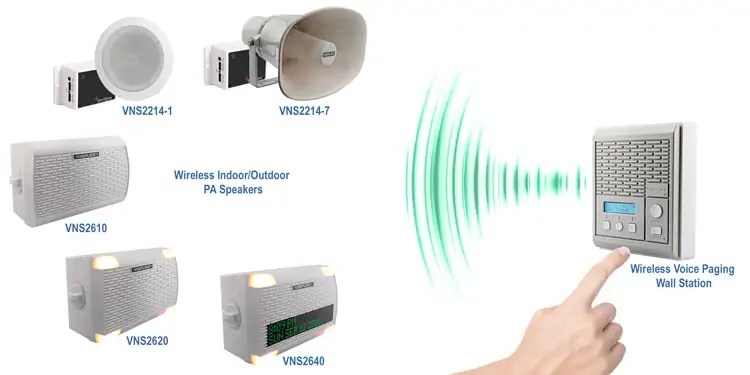 Wireless Voice Paging System
The simplest way to implement a PA voice paging system is by using the Visiplex VNS2420 wireless wall-mounted intercom station. The VNS2420 allows you to make live voice announcements to indoor/outdoor wireless PA speakers with a push of a button. The user can select to page a specific speaker, room, zone, or all wireless speakers at once.
To learn more about the VNS2420 wall-mounted station – click here.
To select wireless PA speakers to match your needs – click here.
FAQ
Wireless paging systems will always be more cost-effective when compared to hard wired systems given the costly wiring that could be a major part of the overall system installation cost. A minimal paging system, which includes a VNS2420 wall-mounted station and a single VNS2610 wireless PA speaker, will cost approximately $650. A basic voice paging system, which includes a VS4500 desktop base station, handset, built-in transmitter and a single VNS2610 wireless PA speaker, will cost approximately $1300. An expanded wireless paging system, which includes a VS4820 paging base station, handset and a single VNS2610 wireless PA speaker will start at approximately $1600. The actual cost of each wireless paging system configuration will mostly be based on the amount of speakers needed to provide full-area audio coverage.
A Visiplex wireless paging system can cover a small commercial building up to an entire town with just one transmitter! The Visiplex system uses FCC-approved paging bands to send the voice and data information to all of its wirelessly controlled devices and uses the needed transmitting power to provide full coverage to any facility size. Visiplex systems are installed in some of the largest commercial sites, universities, medical centers and government facilities in the country utilizing one transmitter to provide full radio transmission coverage.
The coverage of a wireless paging system is impacted by construction materials, certain shielded areas, antenna positioning, antenna height and overall transmitting power. For example, a small commercial building of up to 10,000 SF could be covered with a low-power transmitter. A large or multi level building such as high school may need a medium power transmitter. A large area or multi-building site will require a high power transmitter. To get a better idea about your system power needs, please call one of our sales representatives.
Most Visiplex wireless systems can be installed without the need of professional installers. Since the entire system is wireless, all of the remote components, such as speakers, message boards, intercom stations and visual alert devices, can be installed without any professional assistance. Connecting to AC power or a POE power source would be all that is needed. A desktop base station system that uses an indoor antenna can be installed with a simple magnetic antenna mounting procedure. If your system is designed to cover a large area, it is recommended to use a professional installer to choose the best location for the transmitter and antenna, while ensuring the antenna is properly installed on the roof. If you need or choose to install the system by a professional, Visiplex can offer one of our resellers in your area.
The primary cost difference between a wireless system and a hard wired system relates to the costly wiring of the facility, along with future related wiring problems. For example, a 100,000 sq. ft. facility with 50 PA speakers will cost approximately $15,000 for system parts and approximately $10,000 to wire the building. A wireless system would represent a savings of approximately 40% in the total project cost. Another cost saving factor with a wireless system is that there is no need for expensive service calls for wiring problems or product relocation, since it can be done easily by the end-user.
Visiplex offers a built-in power backup option for most of its wireless products to ensure full functionality during power outage situations. It is recommended for all other system components, such as the base station and external transmitters, to be equipped with a power backup UPS.
One of the most significant advantages of a wireless paging system is the ability to easily add more wireless devices to expand the system as needed. For example, a basic paging system can later be expanded to provide additional wireless PA speakers, LED message boards for text messaging, wireless beacon lights for public visual alerts, and more.
Visiplex is an experienced wireless product manufacturer for over 30 years. Visiplex uses its expertise to provide an elegant adaptation of proven wireless, high powered and FCC approved technology into a select line of speakers, 2-Way intercom stations, LED message boards, beacon lights, clocks and more. Visiplex offers an expanded line of competitively priced products suitable for installations ranging from small grade schools that require a small wireless system to large university centers and industrial complexes needing a powerful networked wireless system with thousands of wirelessly controlled devices. As a well known manufacturer, Visiplex has hundreds of resellers nationwide that can provide professional installation and maintenance services, if required. With more than 20,000 installations, Visiplex's customer base is continuing to grow as we continue to prove we are the right choice for any facility.
All Visiplex products are field-tested, using UL approved parts and are compliant with Department of Defense United Facilities Criteria (UFC), speech intelligibility (STI-PA) standard 2003 IEC 60268-16, Federal Emergency Management Agency (FEMA), OSHA, ADA, and NFPA standards and codes.
All Visiplex products can be ordered from us directly or from a reseller in your area. You can call (847) 229-0250 to speak with our sales representatives, order online using our website www.visiplex.com or E-mail us at sales@visiplex.com.
Wireless Paging System for Instant Voice Messaging and Emergency Notifications
Provide voice paging and instant messaging throughout your facility, regardless of size

Send emergency notifications quickly and easily from a main console or over the phone

Easy system expansion, relocation and cost-effective wireless installation

Add wireless LED message boards, strobe lights and sirens to improve safety and efficiency
Add, Replace or Upgrade your existing Paging System
Replace an old, non-functioning PA system without running wires

Add indoor/outdoor wireless speakers to an existing Public Address system

Expand an existing PA system into other buildings without running wires

Upgrade your current PA system to include pre-programmed messaging and break-bell schedule
Case Studies: