Campus Emergency Notification System
THE CHALLENGE
Cuesta College is located in San Luis Obispo, CA, and is highly regarded throughout the state for its excellent education programs, responsive student services, and exceptional faculty and staff. Terry Reece, the Facility's Services & Construction Director, contacted Visiplex, looking for an Audio/Visual emergency notification system to help protect students, employees, and visitors. The main requirements include Coverage for two separate multiple-building college campuses (San Luis Obispo and Paso Robles), color-coded, campus-wide visual notification ability, and a speaker system for emergency audio/voice alerts.
THE SOLUTION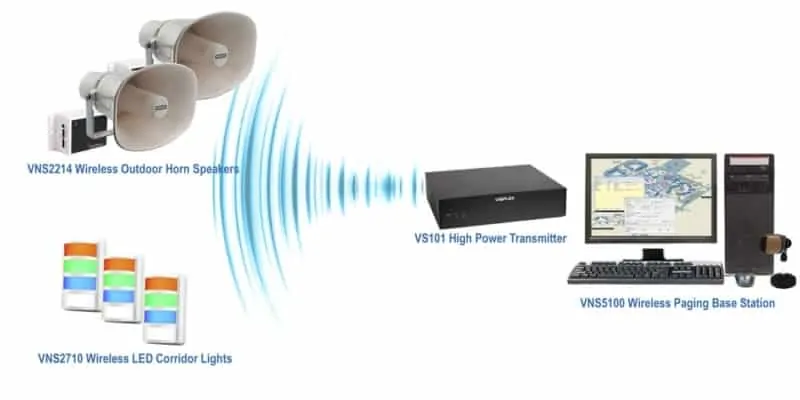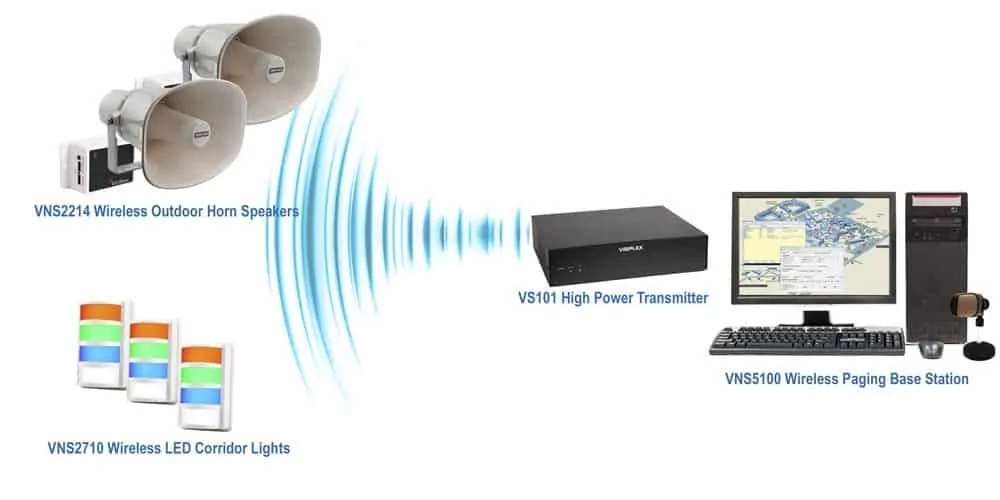 Visiplex solution for the requirements of Cuesta College comprises two separate emergency notification systems (one for San Luis Obispo and one for Paso Robles).  The project will involve 2 VNS5100 Mass Notification Paging Base Stations for the control rooms, 2 VS101-40 paging transmitters to provide full RF coverage throughout the campus area, 202 VNS2710 wireless, Multi-color Corridor Lights for campus-wide corridors and rooms, and 6 VNS2214-7 wireless outdoors horn speakers.
Each VNS2710 wirelessly controlled corridor light consists of red, amber, white and green colored lights. A solid red light is designed to signal a "campus-wide lockdown". A flashing red light with the sirens signals "campus evacuation". The amber light serves to notify everyone on campus that an email or a text message alert has been sent. A white light indicates a "status quo", while a green light signals "all-Clear" and the approval for the resumption of regular campus activity.
The proposed system is fully wireless, eliminating costly wiring between the buildings. The system only requires an AC outlet for dome light fixtures and PA speakers. The total approximate cost of the proposed system is $57,000.
THE RESULTS
Color-coded corridor lights across both college campuses help notify students, staff members, and visitors, about the current alert level.

Wireless Public Address speakers provide voice and tone alerts during emergency situations.

Each college campus has its own emergency notification system to efficiently handle emergencies.

Instant campus-wide alerts can be initiated from the main system base station, via email or text alert.

The installed system is fully expandable, and wireless PA speakers/corridor lights can be added or relocated easily.
All copyrights belong to their respective owners. Images and text owned by other copyright holders are used here under the guidelines of the Fair Use provisions of United States Copyright Law.