Hospital Wireless Nurse Call System
THE CHALLENGE
YKHC Medical Center in Bethel, AK, provides comprehensive health care services for 58 rural communities in southwest Alaska. Brett Frasier, from the hospital maintenance department, contacted Visiplex looking for a simple visual alert solution to improve patient-to-caregiver communication within the Radiology department. The primary needs were; reliability, cost efficiency, battery-operated call devices, and easy installation.
THE SOLUTION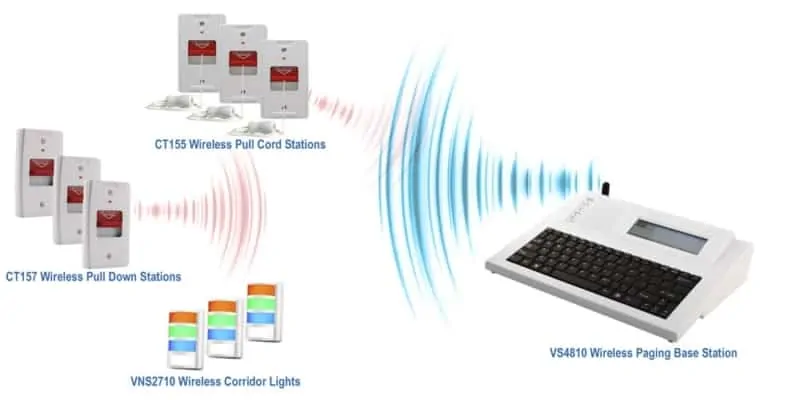 Visiplex's solution to YKHC's requirements consisted of a VS4810 wireless paging base station for the main office, 5 CT-155 wireless, Pull Cord Stations, 5 CT-157 wireless, Pull Stations for the restrooms, and 10 VNS2710 wireless, Corridor Dome Lights for room identification.
The system VS4810 base station is designed to receive all calls from the pull stations. It sends a radio signal to activate the appropriate corridor dome light, all while keeping log data of activities.
The proposed system is fully wireless, eliminating costly wiring between different facility areas and needing only an AC outlet for each controller. The cost of the complete system was approximately $5,600.
THE RESULTS
Patients can easily notify caregivers and staff members when help is needed.

Corridor Dome Lights help caregivers to identify where help is needed.

The system is easy to install and is fully maintained by local facility electricians.

Expandable system allowing for pull stations and dome lights to be easily added or relocated.
All copyrights belong to their respective owners. Images and text owned by other copyright holders are used here under the guidelines of the Fair Use provisions of United States Copyright Law.