School Intercom System
WIRELESS TWO-WAY COMMUNICATION

Visiplex's School Intercom System offers a simple, cost-effective way to incorporate a wireless two-way communication system with intercom stations throughout the school and surrounding area. This school intercom system can function with multiple indoor/outdoor zones and can communicate with each specific intercom station individually. As a wireless solution, this system offers easy installation and expansion at any single or multi-building school.
Each Visiplex school intercom system offers additional features such as: wireless overhead PA paging, break bell alerts, clock time synchronization, SMS text alerts, text messaging to LED displays, wireless panic buttons, and more.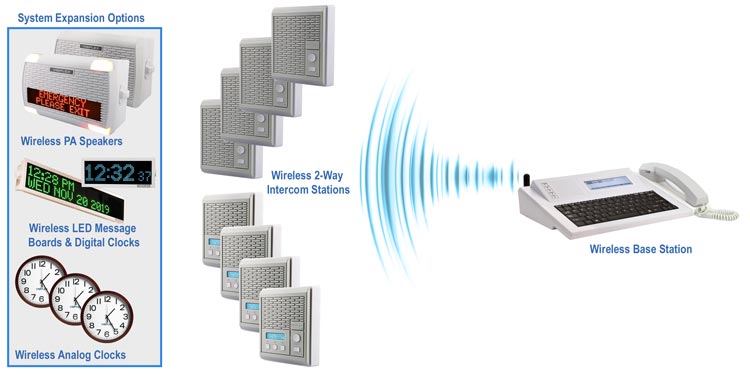 School Wireless Intercom System
A powerful wireless 2-way intercom system that includes a desktop intercom base station. Located at a central location, the system operator has the ability to initiate/answer intercom calls to/from multiple wall-mounted wireless intercom stations across the school. With a push of a button, intercom stations can initiate a call to the main office base station, making two-way voice communication a simple task at every location. This intercom system can be enhanced by adding wireless PA speakers, LED message boards, digital clocks and analog clocks for school-wide messaging and emergency alerts.
To learn more about the VS4820 wireless base station – click here.
To select wireless wall-mounted intercom stations – click here.
To add wireless PA speakers for overhead voice paging – click here.
To add wireless LED message boards & digital clocks- click here.
To add wireless synchronized analog clocks – click here.
Wireless Intercom System for Two-Way Voice Communication and Emergency Notifications
Provide two-way voice communications throughout your school, regardless of size

Initiate emergency notifications quickly and easily from base or intercom stations

Easy system expansion, relocation and cost-effective wireless installation

Expand with voice paging, text messaging and synchronized clocks to improve safety and efficiency
Add, Replace or Upgrade your existing school intercom system
Replace an old, non-functioning intercom system without running wires

Expand an existing PA system with two-way intercom communication

Upgrade your intercom system to include pre-recorded messaging and break-bell schedule
Case Studies: