Camp Ground Wireless 2-Way Intercom and PA System
THE CHALLENGE
Camp For All Foundation is over 100 acres in Burton, TX. Johnny Martin, the facility manager, was looking to replace a 15 years old failing intercom system with more communication features to improve safety and overall efficiency. The system had to be wireless to avoid cable rot in the ground, an all-in-one solution for 2-way communications, and include overhead messaging and background music. Additionally needed features were; integration with existing personnel 2-way radios, over-the-phone paging access, solar power to some areas, and self-installation to minimize cost.
THE SOLUTION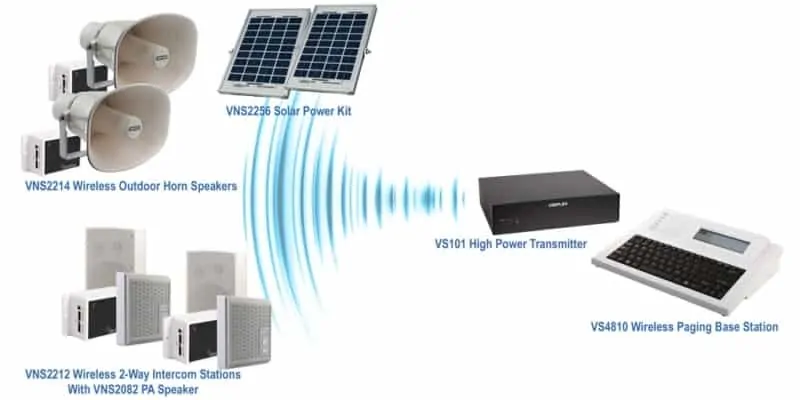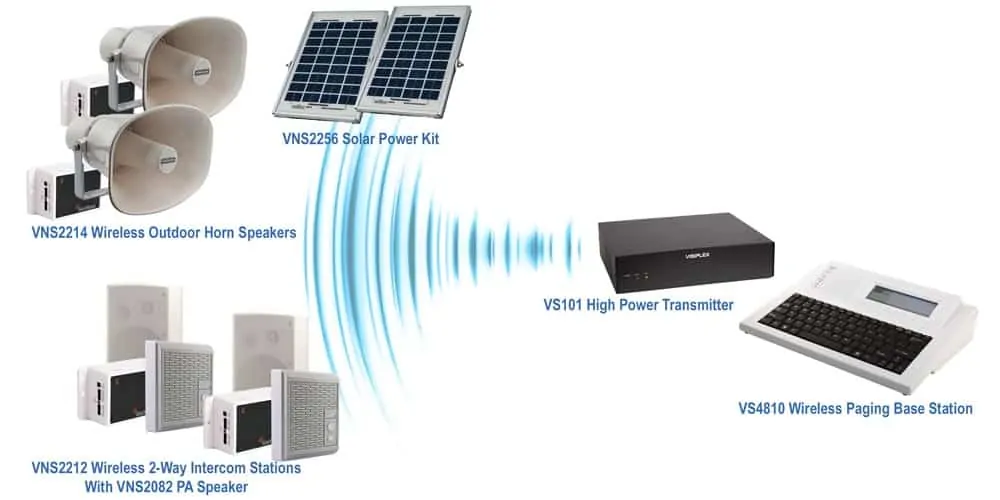 Visiplex's proposed solution was custom-tailored to Camp For All's special needs consisting of a VS4810 wireless paging base station for the main office, VS101-25 high-power transmitter for complete campground RF coverage, 50 VNS2212 2-way Intercom Stations with VNS2082 Wall Mounted PA Speakers, 38 VNS2214-8 Wireless PA Horn Speakers, all equipped with VNS2265 FM Radio Receiver for background music and five of them with the VNS2256 Solar Power option for areas that AC power was not available.
Also included were a telephone line interface for overhead paging from any phone, a 2-way radio interface for voice communication with camp personnel, an FM radio transmitter for background music playback, and a VNS2200 controller to activate a siren.
The proposed system was fully wireless, eliminating costly wiring between different camp areas, needing only an AC outlet or a compact solar panel for each wireless intercom and PA speaker to operate. The total cost of the complete system was approximately $53,000.
THE RESULTS
All camp areas can now initiate a two-way voice communication with the main office.

The main office can initiate a two-way voice communication with all camp site locations.

Emergency alerts and daily announcements initiated from the main office to a specific area or all entire camp.

Overhead paging announcements can be made over the phone or from personnel 2-way radios.

Background music is provided throughout the camp area.

Fully expandable system allowing for PA speakers and intercom stations to be easily added or relocated.
All copyrights belong to their respective owners. Images and text owned by other copyright holders are used here under the guidelines of the Fair Use provisions of United States Copyright Law.